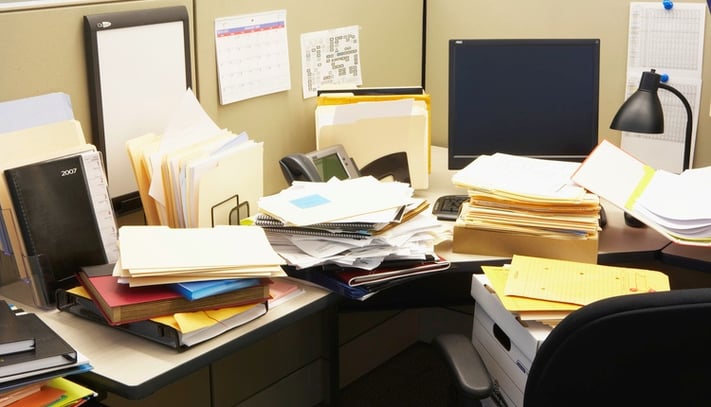 Spring has most definitely sprung (in between the sleet and snow showers!). We've firmly slammed the door shut on January and the daffodils are already pushing through to add a dash of colour to early 2018. This could be the perfect time to take stock of your work space and see if becoming a little more organised can kick-start some creativity. Here are our four top tips for creating a more enjoyable and productive work day.
1. Clear the Clutter:
We're not saying you need to have a pristine workspace if your mind is to function at its optimum. Albert Einstein summed this thinking up nicely when he said: "If a cluttered desk is a sign of a cluttered mind, of what, then, is an empty desk a sign?"
Getting rid of the excess doesn't mean you need a work space free from everything but your computer. We all know how a busy week can end with excess paperwork, crumpled notes and research books or plans covering every away space on your work desk. Taking Einstein's lead, there's no need for an entirely empty desk but a little organisation can go a very long way.
Do: At the end of every working week take 10 minutes to rid your desk of anything that is no longer useful. If notes will come in handy again, file safely away. Leave your desk as you would like to return to it, with the relevant work load neatly stacked to one side with a 'to do' list on top (See no. 2). This small but significant act will automatically set the mind up for the following day with concise instructions of what duties must be tackled on a work space that looks ready for action.
2. To Do or not To Do:
Have you heard the saying that nobody is too busy, it's just a matter of priorities? We've become quite old-school in our approach to work here at Microfinance Ireland. We love the idea of 'to do' lists – not an app on your smartphone or Google calendar notes but an old-fashioned piece of paper with 'To Do' on the top with the matching dates and a list of duties to execute on that day.
Trust us, this exercise is so simple in its thinking but massively effective in its endeavour. At its very essence, is order – a trick for the mind to tackle the most important and pressing element and work your way down.
Do: Make it part of your working day to keep a sheet of paper to one side where you can jot down notes of things you need to do. When you take time to rid your desk of clutter at the end of the evening (Remember No 1), take that sheet and number all those notes in the order of importance. As you effectively address each one, put a line through it. Any duty not tended to will carry over to a new sheet and the following day's priority list.
Putting this into practice is quite satisfying too, as marking off jobs done give a sense of achievement and help assure you that you are being productive, no matter how small that job.
3. Size is irrelevant, but discipline is key:
Whether you're a start up sitting at your kitchen table day in and day out to get your business off the ground or a larger company with office space and staff, there's a mentality that applies to all, no matter how or where you work.
Never undermine yourself because your work space is a transient place that travels from one room of the house to the other depending on where there is peace and quiet or even room to work. But do set goals. Creativity is difficult to measure but the important thing is to make yourself do a little bit every day to ensure there is consistency in your work.
When people are starting off new ventures, there can be a tendency or panic to get stuck in and burn the midnight oil or flap around for hours willing productivity to justify your idea. Instead, allow the mind to remain calm and set yourself a routine that will allow for adjustment while you find your feet.
Do:
Set out a working schedule at the beginning of each week. Sure, there will be days when you put in an extra hour or two, but the importance of this exercise is to ensure consistency and routine. By starting at a set hour and finishing up, you will gradually grow accustomed to a steady work load – like working for someone else and having to show up at a certain time. The difference here is that you are the master of your destiny, so you can factor in the unexpected without the rigmarole of having assignments ready by a certain time. A meeting with a potential client might rule out any morning paperwork, but the afternoon can be freed up for this activity.
And remember, discipline isn't supposed to be enjoyable or easy, it's a constructive measure that will lead to results.
4. Mind over Matters of Social Importance:
Gah! There's a Twitter account to check and a Facebook page to scroll through and some emails pinging and What's App lighting up your phone! Social media, emails, text messages, voice mails and so on, are part and parcel of this fast-moving, technologically crazed world we live in, but that doesn't mean they need to distract you from your day-to-day duties.
Do: Wean yourself off your favourite social media sites gradually, setting yourself 10 minutes every couple of hours to check in and get updated with the goings on in the world. The more you stay away, the greater the realisation that you can get through a day's workload without finding out what cousin Rita is having for her lunch or who is trending on Twitter for a controversial comment!
If you rely on social media tools for your enterprise, that is, use a Facebook page for your business, then keep only that page open. You can switch off personal notifications in your settings that can distract from the work you need to concentrate on.
Stay focussed on the job at hand. You can spend as much time as you like on your lunch break catching up on hashtags or liking photos of cute animals.
Happy working!