"Ideas are easy - Its implementation that's hard"
Guy Kawasaki (Silicon Valley Entrepreneur & Evangelist)
#1 Market Research : Can help you take the first steps in considering both the internal and external factors at play that will make your business a long-term success.
The temptation can often be to jump right in to get the job done but taking some time to think about the "What if's " may be very valuable to you and your business in the long run.
Whether your a start-up or existing business, these are two common research tools that can be used to analyse your business and help you plan ahead:
Here are some more blogs on Starting Your Own Business
1.1 SWOT
SWOT stands for Strengths, Weaknesses, Opportunities and Threats.
SWOT is an internal analysis which focuses on defining your business capabilities and boundaries.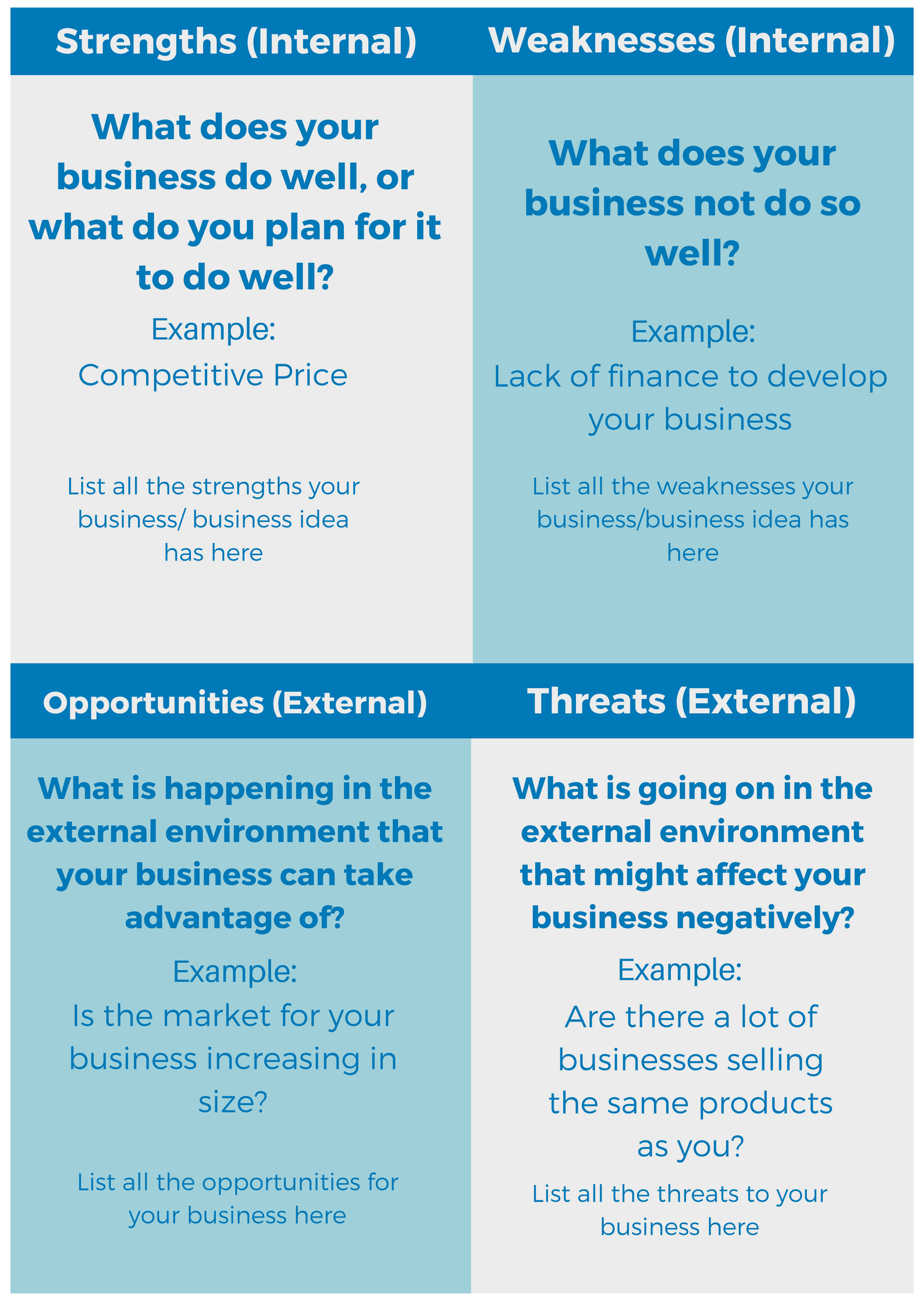 Strengths are what do you do better than everybody else, or the advantage you have over competitors supplying the same product or service.
Identifying the strengths within your business can help you to maximise your advantage over your competitors.
It maybe a Unique Selling Point (USP) that makes your business unique against the competition
You might have a competitive advantage by being able to manufacture a product or deliver a service at a lower price than your competitors.
Weaknesses are aspects that put you at a disadvantage and areas you can improve on over time.
To identify the weaknesses within your business, maybe look at your closest competitors and see are they doing something better than you e.g.
Have they a e-commerce website and are able to sell online?

Are they active/more active on social media and have a strong following?

Is their similar product/service priced more competitively to yours?
Once you know what the disadvantages are, the easier bit can often the steps you have to take to improve things
Opportunities are current and/or future external trends which are waiting to be taken advantage of.
Whether you are starting out or in business a while, as a business owner you should always be thinking a few steps ahead. Think about the options you may have to expand your business into different areas, diversify your product range or acquire new customers for your product or service
Threats are external movements which may cause a problem and have a negative impact on your business.
For example, things like a new shopping centre /large supermarket being planned on the outskirts of town may have serious consequences for small businesses based on Main St. Or a number of new competitors entering your local market can have detrimental affects on a business that is already well established.
Considering all of these factors (both positive and negative) are crucial in meeting the challenges that inevitably arise in any business from time to time.
1. 2 PEST
PEST stands for Political, Economic, Socio -Cultural and Technological.
PEST is an external analysis that helps you identify the broader environmental factors that may impact your business or your sector as a whole.
By firstly identifying these factors and secondly keeping an eye on them on an ongoing basis, your business can "stay ahead of the curve" and weather any storm or potential danger that lurks ahead!
Political: Any changes to legislation or regulation that may affect your business.
A good example was the new GDPR legislation which came into effect in 2018 had far-reaching impacts for many small businesses that hold personal data.
Keeping up-to-date of all political developments can be extremely difficult but knowing what's coming down the tracks is very important for any business
Economic: Things like changes to tax rates, interest rates, inflation, the stock markets and consumer confidence are all things that need to be considered by businesses.
We can all remember the number of small businesses that failed during the recession as a knock-on affect to what was happening in the broader economy.
Socio-Cultural are changes in lifestyle and buying trends,
Many people now do their buying online - be it groceries, clothing, footwear or larger luxury items.
If businesses cannot or are not willing to respond to emerging trends and consumer behaviours, then your business can be easily left behind.
These changes can actually be a great opportunity if your business can respond quickly to emerging trends and can help you gain competitive advantage
Technological are the innovations and developments that can change an entire sector in a relatively short space of time
One example is the current move away from petrol/diesel cars to an age where we will all be travelling in driver-less rechargeable electric vehicles - what will that mean for our local petrol stations?
Another example is back a few years ago, did anyone ever think that you could download and watch the latest movie release on your smartphone whenever you wish instead of making a trek to the local video shop to book and rent the movie (and having to wait weeks for it to be available!)
Just like socio-cultural changes, every business needs to stay on top of emerging technology trends - they can create BIG opportunities for your SMALL business
Next Blog
Microfinance Ireland aims to provide information and support tools to help your business be successful.
To see more Microfinance Ireland Blogs with information on starting a business click the link. 6 Steps To Starting A business